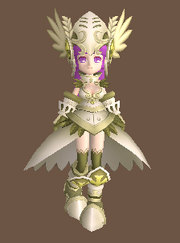 The Valkyrie Set was released as a 7 day version on July 12, 2012 and was available for direct purchase. Later, they released a permanent version on July 18, 2012 which was found in a
Valkyrie Gacha
. The set is wearable by any level and is female only.
When you equip the complete Valkyrie Set, you will acquire the passive skill Soul-Stealing Kiss.
After defeating the target, chance of increasing your Phys and Magic Crit Hit DMG by 25% for 60 seconds.
Contents of Costume
Edit
Ad blocker interference detected!
Wikia is a free-to-use site that makes money from advertising. We have a modified experience for viewers using ad blockers

Wikia is not accessible if you've made further modifications. Remove the custom ad blocker rule(s) and the page will load as expected.