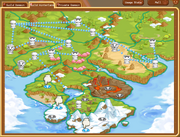 The Guild Hinterlands interface has markers on it, with your guild starting on the rightmost marker. As your guild levels up, you will be able to move across the map.
There are three different types of markers on this map and unlocking them will unlock the following benefits:
General Base – You're required to unlock these to gain access to further spots on the map.
Special Base – With this base, guild members in an area will receive a special buff.
Instance Base – With this base, all guild members will be able to enter the Domain Trial Ground in the region.
Instance Base
Edit
The Trial Grounds are separate instances that allow guild members to fight additional monsters and take on challenge quests for higher EXP. There are different Trial Grounds to unlock that are appropriate for different character levels.
Special Base
Edit
Guilds that level up their Hinterlands can receive additional buffs in certain maps for all the guild members when in that area.
Ad blocker interference detected!
Wikia is a free-to-use site that makes money from advertising. We have a modified experience for viewers using ad blockers

Wikia is not accessible if you've made further modifications. Remove the custom ad blocker rule(s) and the page will load as expected.