InformationEdit
Description: Changes the appearance of the weapon type.
Price Per Unit: 1 Gold
Interface
Edit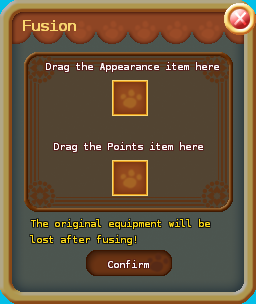 Only matching item types may be fused.
The original equipment will be lost after fusing.
Non-transferable items cannot be fused.
"Points" item's level must be higher than the "Appearance" item's level.
Obtained From
Edit
Ad blocker interference detected!
Wikia is a free-to-use site that makes money from advertising. We have a modified experience for viewers using ad blockers

Wikia is not accessible if you've made further modifications. Remove the custom ad blocker rule(s) and the page will load as expected.