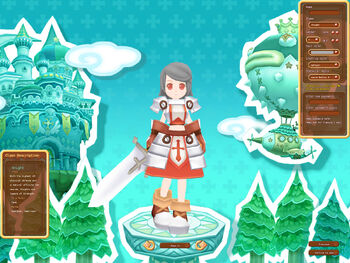 Creating a Character
Edit
The character creation interface provides each player with many options to customize their own character, making each character unique.
The options each player has are to choose for the character are the:
Name (Each name has to be unique, players can't choose NPC names)
Gender
Face
Hair
Hair Color
Clothing Color
Character Voice
Character and Storage Password
When selecting a class, a description about the class will appear in the bottom left corner.
Face Styles
Edit
Female
Male
Hair Styles
Edit
Female
Male
Color Styles
Edit
Players can choose certain colors for their clothing and hair color. These colors are a varried selection of Hair and Clothing colors, with fewer options than in game Dyes.


Voice Styles
Edit
Female
Male
Ad blocker interference detected!
Wikia is a free-to-use site that makes money from advertising. We have a modified experience for viewers using ad blockers

Wikia is not accessible if you've made further modifications. Remove the custom ad blocker rule(s) and the page will load as expected.